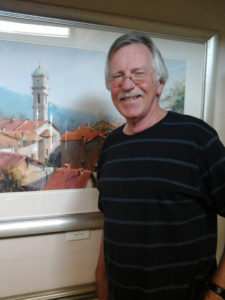 As a professional artist since 1992, Ross is internationally recognized as one of Australia's leading and influential watercolourists who is well respected for his "en plein air" paintings in pastel and oil, both in Australia and overseas.
A multi award winner in Australia and internationally, Ross is often one of the few watercolourists invited to represent Australia in World Watermedia Expositions and Biennials; and has had his work published in various books and publications worldwide. These include,"The Art of Watercolour"[France}-the book, as well as the magazine of the same name. Successful solo exhibitions in China and group exhibitions in Europe, have followed, along with an instructional DVD-"Summer Light in Watercolour"-available worldwide.
Ross is an invited member of Twenty Melbourne Painters Society, and Australian Watercolour institute[Sydney].
A trained teacher with an extensive background in art education, Ross capably imparts his knowledge in a methodical, yet concise and positive manner, for all levels of development within the context of each workshop theme. His workshop demonstrations are approached in logical steps and cover all aspects of necessary awareness when painting-"en Plein air" or studio. Thoroughly explained elements, such as design, drawing, tone , colour possibilities, technique and mood are all explained, along with the various subtleties and characteristics associated with a specific area or subject. When on location, he will teach analytical awareness- pointing out unifying shapes and relationships that will enable a painting to work as a design!
This slideshow requires JavaScript.