Brochure – 6-20 June 2024 Painting Workshop with Craig Penny
Itinerary – 6 – 20 June 2024 Painting Workshop with Craig Penny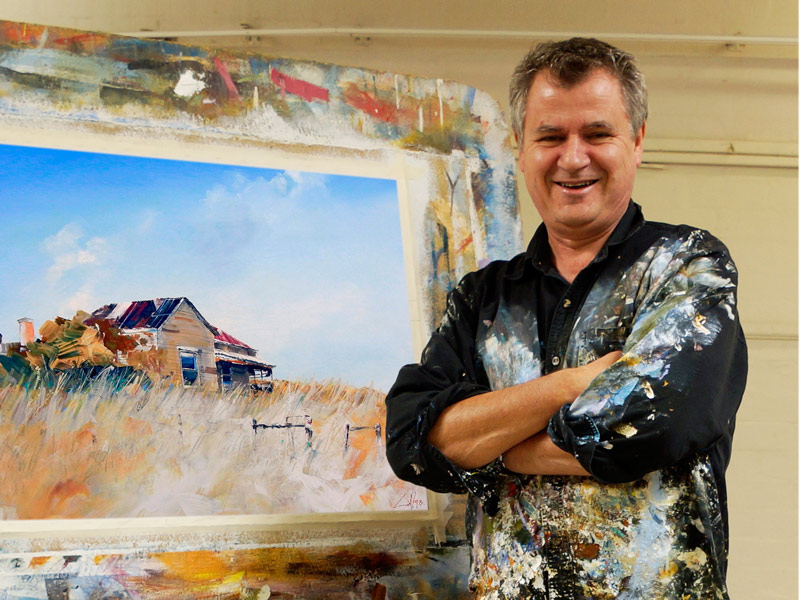 STATUS: Places Available
Dates: 6 – 20 June 2024 (14 nights/15 days)
Beginners and experienced painters are welcome.
This is Craig's second watercolour painting workshop in Italy.
Craig will be demonstrating and teaching watercolour in the town of Bologna as well as travelling through the Emilia-Romagna and Tuscan Hills
The tour caters for all painters as Craig is an experienced teacher that can drill down to basics as well as showcase the finer points of watercolour.
Craig has had a successful career in teaching traditional drawing and illustration at Victoria University and Swinburne University. However, he never lost his love of using traditional methods, subsequently specialising in watercolour, acrylic painting and illustrations.
This has lead to an extremely successful solo career. In 2001, Craig had his first major solo exhibition. In 2007, his work was accepted by Gallery Diamante in Carmel, California.
Craig is represented by galleries in Australia, Singapore and Cambodia.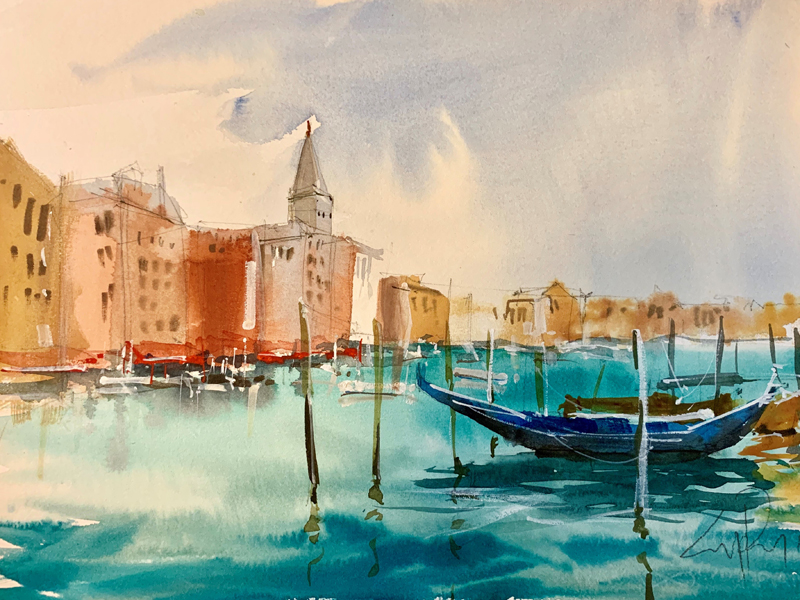 Also for non-painters
While Craig is tutoring, Janette Garbuio will be chaperoning the cultural enthusiasts. There is never a dull moment exploring the winding alleyways of Venice or the unique buildings of Cinque Terre. Janette is fluent in Italian and will show you the beautiful area. Enjoy the time and energy of immersing yourself in the Italian culture.
TOUR ITINERARY
Day 1: Arrival
Arrival at our accommodation time to rest before our MEET AND GREET at 5pm. Time for a short orientation before going for Dinner nearby at 7pm.
Accommodation: Bologna Dinner at the discretion of individual
Painting: No workshop. Preparation talk.
Day 2: Bologna
A short meander through the streets of Bologna to our location to paint in Piazza Maggiore, where you will find architecture dating from 10th century. Sunlight shines on the Torri dei Asinelli, where we capture the afternoon light before having time to explore this vibrant city.
Accommodation: Bologna
Meals Included: Continental Breakfast
Workshop: 9:30-4pm
Day 3: Bologna
We meander to Santo Stefano square. It will be quiet and features the historical Abbey which is a curious collection of four medieval churches jumbled together under one roof. Some were built before the 8th century to 13th century. After lunch, we venture to the oldest university in Europe to paint.
Accommodation: Bologna
Meals Included: Continental Breakfast
Workshop: 9:30-4pm (includes lunch break)
Day 4: Modena
We will travel to Modena, which is one of the more significant cities in Emilia-Romagna. It is called the "Beautiful" and you will discover this.

We will stroll to the ancient Roman center from where you can spend time exploring. There is a large city market center and variety of exclusive stores.
In front of the World Heritage Romanist Cathedral, there is a large cobble public square where you can sit and take a coffee break under the ancient arches.

You will be free to spend the day exploring the architecture, the Este Duke's Palace, churches filled with Baroque architecture and art, and beautiful shops before leaving after lunch. We will travel to see the Ferrari Museum of Maranello where you can partake in some refreshments before departing to our place of stay in the mountains.
Accommodation: Riolunato
Meals Included: Continental Breakfast and Dinner
Workshop: Travel Sketch Book
Day 5: Riolunato
Today, it will be lovely and quiet so you will not be disturbed. We will also have a studio that has beautiful views of the valley to join Craig for instructions.
This quiet village is just perfect for painting the old rustic fresco buildings, ancient doors, and cobble pathways.
You can follow the road down from the town to see the beautiful C13 Bridge of the Moon. Lunch at the local trattoria or at our hotel.
For non-painters an opportunity to walk to CASTELLO to find a hidden ancient C10 tower and church filled with ancient artifacts which were gifted by pilgrims from the crusaders and a hidden frescoed C15 Oratory.
Accommodation: Riolunato
Meals Included: Breakfast and Dinner
Workshop: 9:00am – 4.30pm (includes a lunch break)
Day 6: Fiumalbo
Today is your opportunity to paint this medieval town on the border of
Tuscany and Emilia-Romagna and is surrounded by two rivers. Small narrow
streets reveal a town steeped in ancient history. The town has buildings with slate roofs and historical oratories filled with
frescos from the 14 century. Learn about the history of the whites and the reds religious sect as each
protects their church and their beliefs. The landscape consists of beautiful old churches, stone bridges, and a Seminary Abbey encircled by mountains.

After lunch, there will be an opportunity for non-painters to drive up and walk
down from Eagle's nest. On the return journey a short stop to walk on the
1000-year-old double donkey Bridge of Fola.
Accommodation: Riolunato
Meals Included: Breakfast and Dinner
Workshop – 9:30am – 4:00pm (includes lunch)
Day 7: Sestola
This snow resort town set high in the forested Mt Cimone mountain will
inspire the artists as they view the majestic castle of Sestola (900AD) which
is perched on the edge of a ravine.
It is in the best location to paint under lovely shady trees in a garden square
surrounded with lovely stone buildings.
For non painters opportunity to explore the old forest paths to the Largo della
Ninfa. You will return to a local restaurant or café to rejoin the artists for
lunch and maybe a refreshing drink of wine.
This area is renowned for its truffles and porcini mushrooms which can be
purchases to bring home.
Afternoon entrance into the castle to paint and examine the ancient articles
within and maybe a musical play on the old pianos on display within.
Accommodation: Riolunato
Meals Included: Breakfast and Dinner
Workshop: 9am to 4pm (includes a lunch break)
Day 8: Montecreto
We will take a drive to this mountain top town which boasts of one road
which will lead to the castle and church of St Joseph. located on top of the
steep hill.
The ancient cobble road has typical country stone dwellings, some dating
from the 12th century and nooks that will inspire the painter.
And for anyone who wishes to explore, the views from the top of the road
ending in the castle's courtyard will find it is worth the effort to walk all the
way up. You will be overlooking the majestic panoramic views of the
Scoltenna Valley.
Accommodation: Riolunato
Meals Included: Breakfast and Dinner
Workshop: 9:30am-4:00pm (includes lunch break)
Day 9: Lucca
Our private bus will take us down through the beautiful mountains to Lucca, a magnificent city in Tuscany which is renown for its music festivals and its rich history. Dates back to the Romans, it is enclosed by high defense walls which you can even hire a bike to go around. Lucca has narrow lanes, which meander along various medieval buildings, including an 180BC Roman amphitheater.
This is an opportunity to draw some sketches as you rest at a local café or find a seat under the trees. We will leave by 3 pm. On our return stop to walk over the Maddalena Bridge build in the Matilda of Tuscany era before we go to our new hotel.
Accommodation: Castelnuovo di Garagnana
Meals Included: Breakfast & Dinner
Workshop: Free Day – Sketch Book
Day 10: Castel Nuovo Di Garfagnana
The history of this town dates back to the 8 Century. Its location on the Serchio River made it the main market town of this region. It has views of the Appennine and Apuan Alps. Within this town you will find towers and majestic buildings for the artist to depict and explore.
The non artist will have time to explore the winding paths to the defense castle which overlooks the town or find a hidden café to enjoy scenic views of the river which sweeps past this town.
You will have time to rest or walk into town to enjoy the atmosphere from our accommodation.
Accommodation: Castelnuovo di Garfagnana
Meals Included: Breakfast & Dinner
Workshop: 9:00am-4:00pm (includes lunch break)
Day 11: CASTIGIONE/ Sasso Rosso/ Hostel St Pellegrino
Our bus will take us through the scenic mountains, into the Tuscan region, along the medieval road, just like the pilgrims of yesteryear. We will visit Castel Garfagnana, a beautiful town surrounded within a castle wall, dating back to the Roman Era and the dark ages.
After many painting/sightseeing opportunities, we will venture after lunch to a gorgeous village with red stone buildings called SASSO ROSSO. There are only pathways made of stone from one house to another and we can spend an afternoon painting or exploring.
On our return we will visit San Pellegrino – C600 pilgrim hostel for a coffee before returning to Riolunato.
Accommodation: Riolunato
Meals Included: Breakfast & Dinner
Workshop: 9:30am to 11:30am and then sketch book
Day 12: Pievepelego
Today will be a peaceful day with only a short drive to the neighboring town to paint in the town of Pievepelego. It dates back to the 10 Century but it has a modern feel because it is the main town in this region.
We will have the opportunity to mingle with the local people at their country market and a view of the famous Parmesan cheese co-op which is located in this town.
There will be time to explore the shops and enjoy coffee or wine at the cafes. For the non-painters a walk to view the old watermill and a walk to the bridge of Fola.
Accommodation: Riolunato
Meals: Breakfast and Dinner
Included: Breakfast & Dinner
Workshop: 9:30am to 4pm (includes a lunch break)
Day 13: Cutgliano
Our bus will drive through the Nation Park of the Appennine mountains for the last time before arriving to this hidden Tuscan town which is classified as being the most beautiful Borga (cluster of buildings) in Tuscany.
It is hidden deep in the Appennine Mountains. It is surrounded by dark forests and winding roads. The quaint stone buildings and alleyways will give you plenty of opportunity for painting.
You will discover that history surrounds you because this was the medieval town where the secret meetings of the warlords of the region- "Captains of the Mountains" were held.
Accommodation: Riolunato
Meals Included: Breakfast & Dinner
Workshop: 9:30am to 4pm (includes a lunch break)
Day 14: Riolunato
Time to explore for the last time this quiet old town, maybe a walk down to the River Scoltenna to paint the views of the Bridge of the Moon and for the non painters a walk to GROLLO.
Lunch time there is a lovely trattoria in the vicinity where we can all enjoy the last country lunch. There will be time to finish your paintings in the studio in our hotel before we pack our bags ready for departure early the next morning for Bologna
Accommodation: Riolunato
Meals Included: Breakfast & Dinner
Half day workshop
Day 15: Departure
Departure to BOLOGNA TRAIN STATION and then to Bologna airport for departure.
Limited Places