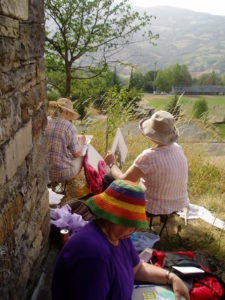 September 2014 Watercolour Painting Workshop & Cultural Tour with Ev Hales – ALL BOOKED OUT
September 2014 Watercolour Painting Workshop & Cultural Tour with Michael Goff – ALL BOOKED OUT
September 2015 Watercolour Painting Workshop & Cultural Tour with Ev Hales information – Accepting Bookings.
May 2016 Painting Workshop & Cultural Tour with Regina Hona information – Accepting Bookings.
The patience of an art instructor, together with the energy of a tour guide – this tour is perfect for friends and family, with different interests, wanting to experience idyllic Italy together.
This tour is a truly unique experience as it allows travelers to step back in time where life wasn't ruled by traffic, heavy schedules or bustling crowds.
Painters – Whether you are a beginner painter or a professional artist, this tour caters for all types of painting skills. You can either join our painting workshop or spend some time painting at your own leisure. Our tours are flexible to allow artists to paint buildings, people and scenery that are off the typical tourist trail. This tour adds another dimension to Italy with its grazing hills, abandoned medieval buildings and historical towns/villages. There are plenty of painting opportunities in the hills of Italy.
Walkers – An excellent way to explore the countryside with like-minded people. Travel in areas not seen by the average tourist. See the countryside through guided walks (short and long distances) as well as having the ability to explore in your own time. We have various activities to suit all tastes.
Cultural – Shop for authentic local products and crafts. Museums, markets, galleries are just some of the sights. Interact with the locals and join in the festivities. If you are in no hurry, this tour also allows you time to relax and simply soak up the atmosphere (ideally with a glass of 'vino' in hand!).
Near the border of Tuscany in Italy, you will reside in a township called Palagano. Palagano and its surrounding hills are usually where city-living Italians spend their summer holidays to escape their tourist-flooded cities (over 5 million Italians live in Rome alone!).
The hills have many ancient stone buildings, towers and churches. Religious artifacts, ranging from 10th to 16th century can be observed and photographed. The passionate residents, who are proud of their heritage and embrace newcomers like family, are there to make your trip unforgettable.
You have the opportunity to visit places, which are undiscovered by other tour companies. Day tours are organized to Modena, Lucca and the Garfagnana regions in Tuscany, to visit the contrasting cities and medieval architecture.
There is plenty to see in the Emilia-Romagna/ Tuscan Hills. Art galleries, museums, monuments, tasting local produce the region is famous for, walking along tracks that reveal medieval ruins, visiting remote villages and castles can be done through guidance or at your own leisure.
If you have any special interests you would like to pursue whilst on tour, please let us know as we aim to accommodate.