For nearly 10 years, our painting and cultural tours have been situated in the Tuscan/Emilia-Romagna Hills. Painters love this area as it showcases local people, 10th century stone buildings and fresh, homemade delights.
In 2014, we were given the challenge by a fellow artist, Michael Goff, to venture out of our usual territory to Venice and Cinque Terre, Italy – Paesano Tours style. We accepted the challenge to expand our horizons and find quiet, calm places for artists to paint, in these busy cities. The inaugural tour of Venice and Bay of Poets (Cinque Terre) was so successful that we have organised another painting and cultural trip in this region for 2016.
10 May – 27 May 2016 – Venice and Bay of Poets (Cinque Terre)
Ev Hales Watercolour Painting Tour
Venice is the most romantic city in the world. What most tourists do not see in Venice are the lovely quiet places which allows artists to fulfil their desire to capture the soul of Venice. We love relating the history of this beautiful city, which has one of the most dramatic and complex history in all of Europe.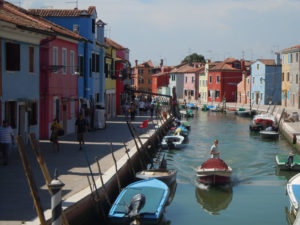 Visits to the islands of Murano and Burano are never rushed. Each day we visit a section of Venice, where we are able to give artists time to paint, while cultural lovers can shop or explore the area. We also have an opportunity to meander at dusk, where crystal chandeliers and interiors are lit up and visible.
"After visiting Venice every year for nearly ten years, I know the best places to capture light on the water, little nooks to gain peace and privacy in order to concentrate on what I love best – painting. I would love to show you the painter's version of Venice" – Janette Garbuio
Art galleries, churches filled with masterpieces, secluded canals, concerts and shopping are all around you. We also give the opportunity to visit two of the more important cities on the Veneto mainland – Treviso and Padua (Padova).
Treviso is Silvio Garbuio's home town. It is surrounded by defensive walls with a rushing river in its moat. Inside the town, there are twisted laneways, which will lead you to arched buildings, filled with shops, fish markets, waterwheels and cafes. Non-painters will have plenty to occupy themselves while painters are settled in a quiet area.
Painters and Non-painters have the chance to visit Padua (or Padova) on their non-painting day. This town is rich in history, full of gothic buildings and home to the most beautiful church in the world, The Holy Basilica of St Anthony. There is time to explore the ancient market centre and walk in the beautiful gardens before catching the train back to Venice.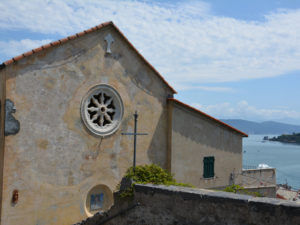 Then we travel to the other side of Italy, to the Bay of Poets, along the Liguria coast. The only way to explain the beauty is to visit this place in person. It is sincerely, a painter's dream.
Cinque Terre is easily accessible by boat, which is the best way of appreciating the region, as you have the chance to view the coastline. The hotel is a family run establishment with open views of the bay and it is renowned for its fine cuisine, which is also included on the tour.
Places are already filling fast, so if it is your dream to go on a painting tour with like-minded people – now is the time. Click here for more information.