By Janette Garbuio
Venice & Bay of Poets (Cinque Terre)
We had a another lovely group full of enthusiasm as I showed the quiet places of Venice to paint. People were so amazed that such a busy town, there were still quiet pockets of beauty to paint. The cultural lovers had plenty of places to explore but Venice can be a mystery if one is not sure of its twists and turns – even with a city map. I had Silvio and myself staying with Michael or with the cultural people to ensure no-one became lost.
One highlight was my niece coming to the monastery, dressed in the costume, which she uses for the Venetian Carnivals. We had our own studio were we stayed, so in the afternoon, she was able to sit for a portraiture session on the first day of the workshop. This helped the people who had just flown from Australia to adjust to the time difference. Every morning in our Studio , Michael and I used it to inform everyone about the history and general information before we departed.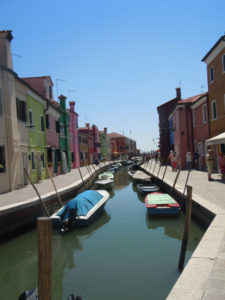 Everyone had a three day tickets for the ferries and it was used for the Murano and Burano islands as well as the grand canal for those days and nights. Venice is vibrant. Michael also made it a great place to paint. Our optional day was Padova (Padua). Everyone wanted to visit St Anthony Cathedral and see this medieval city. Everyone enjoyed the market, gardens and just sitting watching the locals, while drinking a Spriz cocktail.
Treviso was another city which we travelled to paint. The quiet canals and water mills inspired our artists while the shops were explored by the cultural lovers. The local Veneto trattoria made some super open sandwiches with traditional Veneto antipasto, which were all piled on a large board for us to share. A Bride and Groom even pretended to paint Michael Goff's demo for their album. Meanwhile George Clooney's wedding was happening in Venice. What a treat.
The days just flew and in no time we were on the bus to the Bay of Poets. The drive across Italy was beautiful and the weather was excellent. The introduction to the Bay of Poets caused everyone to say " How beautiful" and it was.
The hotel is perfectly positioned to take in the views and is in the heart of the small sea village.
In the morning, the group started to paint the fishing boats while the cultural lovers took advantage of the promenade to take an Italian passegiata (stroll). The days were filled with local attractions and ferry rides to Cinque Terre. On the last day, I asked if anyone wanted to go on a mystery bus tour as I wanted to explore a town while everyone relaxed on their final day. Three people accepted this fun challenge and we ended up at a medieval town, which happened to have a medieval pageantry with knights and damsel in costumes. The sword flights were real with the winner taking the prize. It was spectacular and a wonderful surprise.
The last night was a birthday for Peter and when he blew out his candles, fireworks when off in the bay lighting up the castle on the hill. Everyone cheered and said to me "Did you arrange that as well?" Yes, Italy is full of surprises.
My next trip will be September 2015 with Ev and it is already fully booked but plans are in place for Regina Hona to come to see the mountains and capture her memories from 28th May–11th June 2016 and I am in the process of planning a painting trip beforehand – possibly to Venice and Bay of Poets. I will keep you informed.
If you are interested in Regina Hona's Painting Workshop – please click here.
If you are interested in Venice and Bay of Poets (to be confirmed) – please contact Marina or myself on 0418 309 753 or (03) 9758 5985.
Ciao!