This is our signature tour and we have been traveling to the Tuscan/Emilia-Romagna hills for nearly a decade.
The peacefulness of Valle di Dragone (Valley of the Dragon) and Valle di Rossina (Valley of the Rose), allows artists the tranquility to concentrate on their medium, as well as give them ample opportunity to explore the unique area and to take plenty of long-lasting photographs to capture the memories to paint at a later time, if they prefer.
The hills boast an array of ancient stone buildings, towers and churches, which range from 10th to 18th century. Examples of architecture from the dark ages and the Romanesque times are there in their natural state.
This tour has a strong influence on the cultural aspects of the town. Country markets and local food adorn the village streets. Art galleries, museums, monuments, viewing the frescoes, tasting local produce the region is famous for, walking along tracks revealing medieval ruins, visiting remote villages and castles can be done through our guidance or at your own leisure. Therefore, if this tour intrigues friends and family who are not painters, they will still have the time of their lives by being involved in a community so different from their own.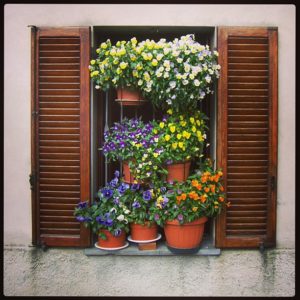 Our tours are beneficial to people who want to experience another culture, rather than hotel hop to various places, without capturing the essence of the Italian community.
The residents are proud of their heritage and embrace newcomers like family and they certainly make the painter's trip unforgettable.
Each day includes a visit to a different local town, each unique history with their own traditions and town structure. We ensure our tours allow you to have a relaxing day (i.e.: visit a small town or village close to the accommodation) before visiting larger cities like Modena and Lucca. After the tour, there is still the option for a 3 night stay in Venice with Janette Garbuio.
For sightseers and photographers, there is an ability to venture at your own pace, at all locations. While for experienced painters, there is plenty of time to paint 'plein air' and at our allocated studio.
For more information about our next tour to Tuscan/Emilia-Romagna Hills for 2016, click here.